Eachine RedDevil "Toothpick" quadcopter
Eachine also has jumped into hype train and released their version of toothpick – RedDevil. It looks very similar to the Happymodel Sailfly-X. This is shouldn't be surprised as the manufacturer of the most components is the same Happymodel. However, RedDevil has a few differencies. The RedDevil has slightly different design, but the same 105mm size frame. RedDevil's canopy is taken from the Trashcan Quadcopter, while Sailfly-X has 3D printed TPU canopy. Both quadcopters have the same CRAZYBEE F4FR PRO V2.1 FC board with 6A 4in1 ESCs. RedDevil's motors are same Happymodel EX1102 motors, but with slightly bigger KV rating of 8700KV vs SailflyX – 8500KV.
The biggest difference between the RedDevil and Sailfly-X toothpick quads is camera and VTX combo. Sailfly-X has AIO camera with only 25mW VTX and the RedDevil has better Caddx EOS2 camera and 25mW-200mW nano VTX combo.
RedDevil weight is 38g (without battery), slightly more than Sailfly-X – 35g and thats mainly because of the diferent camera used.
And lastly – RedDevil comes with a handy bag for carrying the quad and batteries.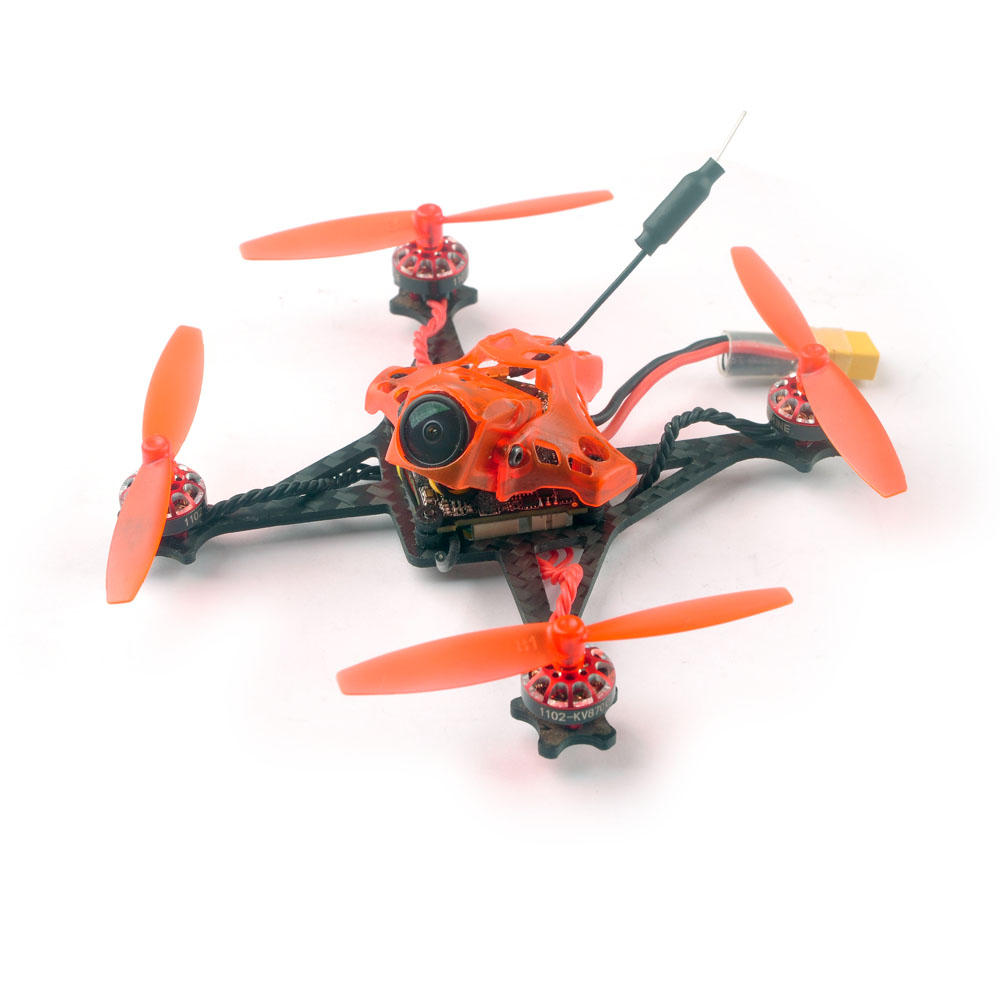 Sailfly-X for comparison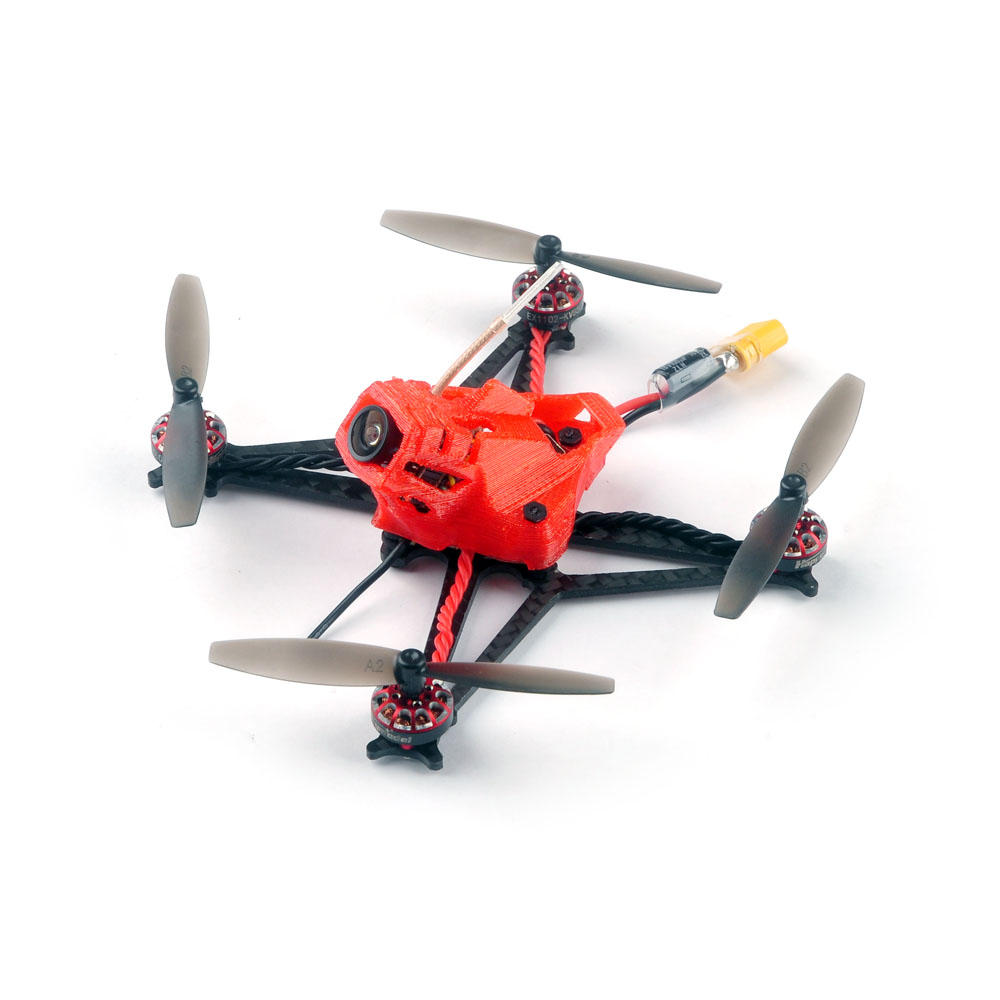 Available @ Banggood:
https://www.banggood.com/Eachine-RedDevil-105mm-2-3S-FPV-Racing-Drone-Whoop-PNPBNF-Crazybee-F4-PRO-Caddx-EOS2-5_8G-25200mW-Nano-VTX-p-1491992.html
Specifications:
Name: Eachine Red Devil 2-3S Micro FPV racing drone
Wheelbase: 105mm
Size: 95mm*95mm*50mm(without propellers)
Weight: 38g(without battery)
Weight:63g(with Original 3s 300mah Lipo battery )
Spare parts specifications:
Motor Mode: EX1102 KV8700
Configu-ration:9N12P
Stator Diamter: 11mm
Stator Length: 2mm
Shaft Diameter: Φ1.5mm
Motor Dimension(Dia.*Len):Φ13.5mm*16mm
Weight(g): 2.8g
No.of Cells(Lipo): 2S-3S
Flight controller (Frsky version) CRAZYBEE F4FR PRO V2.1 Firmware target: CrazybeeF4FR
(Flysky version) CRAZYBEE F4FS PRO V2.1 Firmware target: CrazybeeF4FS
(DSM2/DSMX version) CRAZYBEE F4DX PRO V2.1 Firmware target: CrazybeeF4DX
(No RX version) CRAZYBEE F4 PRO V2.1 Firmware target: CrazybeeF4DX
MCU: STM32F411CEU6 (100MHZ, 512K FLASH)
Sensor: MPU-6000 (SPI connection)
Board size: 28.5 * 28.5MM
Power supply: 2-3S battery input (DC 7.4-13V)
Built-in 5A(each) Blheli_S 4in1 ESC Dshot600 ready
Frsky version Built-in SPI Frsky receiver with telemetry(D8/D16 switchable)
Flysky version Built-in SPI Flysky receiver with telemetry(AFHDS/AFHDS2A switchable)
DSM2/X Version built-in Serial-based DSM2/DSMX compatible satellite receiver
No RX version need to add external Receiver
Built-in Betaflight OSD (SPI Control)
Built-in Current meter Max 28A
Current meter scale set to 1175
Built-in 5V 1A BEC with LC filter
Built-in voltage detection
Onboard 4in1 ESC MCU upgraded to EFM8BB21
Power supply: 2-3S LiPo/LiPo HV (7.4v/13v)
Current: 5A continuous, 6A peak (5 seconds)
Support BLHeliSuite programmable
Factory firmware: S_H_50_REV16_7.Hex
Default protocol: DSHOT600
Frsky receiver Version SPI BUS receiver
Frsky D8/D16 switchable
Compatible both Non EU and EU-LBT transmitter Channels: 8ch or 16ch
EU-LBT support(need to update betaflght v4.0 date 2019-04-11)
Failsafe support
No ground interference ( Transmitter and receiver 1 m from the ground): 300m
Flysky receiver Version SPI BUS receiver
Protocol: AFHDS and AFHDS-2A Switchable
Channels: 8ch(AFHDS) or 14ch(AFHDS-2A)
No ground interference ( Transmitter and receiver 1 m from the ground): 300m
Failsafe support
DSM2/DSMX receiver version Serial bus receiver
Protocol: DSM2/DSMX compatible
Channels:6-9 (Depend on your radio)
No ground interference ( Transmitter and receiver 1 m from the ground): 300m
PNP No RX version No RX version support external serial-bus receiver like xm+, crossfire, S-FHSS etc.
VTX Output power: 25~200mw switchable
Frequency: 40CH
Input voltage: 3.3V 5.5V
Current consumption: 300mA(type)
Antenna: RG178 antenna
Frequency: 5.8GHz 5bands 40 channels
With Raceband
Smartaudio ready
Weight: 2g
CADDX EOS2 camera 1/3″ CMOS Sensor
1200 TVL
2.1mm lens
16:9 Image size
NTSC
Global WDR
Internal Synchronization
Lipo Battery Capacity:300mAh
Voltage:11.4v
Continuous Discharge Rate: 30C
Instantaneous discharge rate: 60C
Size: 65mmx18mmx11mm
Weight: 25g
Connector: XT30
Features:
Crazybee F4 PRO V2.1 AIO Flight controller 2-3s Lipo Compatible
The lightest 1102 brushless motor only 2.8g with double ball bearings
Light ,Powerful and smoothly
Caddx EOS2 ready
Camera angle adjustable
25mw-200mw 5.8g vtx with smartaudio
Betaflight OSD support ,easy to get RSSI, Voltage ,current from your goggles(DSMX version no RSSI output)
Frsky version support both NON-EU and EU-LBT Frsky transmitter(EU-LBT need to update firmware to Betaflight 4.0( release date :2019-4-11)
Flysky version support both AFHDS and AFHDS-2A protocol transmitter
DSM2/DSMX version support DSM2 and DSMX compatible Spektrum transmitter
No RX version support external serial-bus receiver like xm+, crossfire, S-FHSS etc..
Full telemetry function ready (Frsky and Flysky version support)
Real Bind and Fly version
Package Included:
1 x 105mm Brushless whoop Frame
1 x Adjustable angle canopy
1 x Option1: Crazybee F4FR V2.1 PRO FC built-in Frsky RX
Option2: Crazybee F4FS V2.1 PRO FC built-in Flysky RX
Option3: Crazybee F4DX PRO V2.1 FC built-in Serial-bus DSM2/DSMX RX
Option4: Crazybee F4 V2.1 PRO FC no RX verion
4 x EX1102 KV8700 Motor
1 x 65mm red propeller(6xcw+6xccw)
1 x Caddx EOS2 camera
1 x 5.8g 25mw-200mw Nano VTX
1 x 3S 11.4v 300mah 30C/60C battery
1 x XT30 Plug Pigtail Power Wire with 100μF 16V Capacitor
1 x Propeller disassemble tool
1 x Screwdriver
1 x Eachine Handbag