FrSky Apus MQ60 V2 – what's new?
Frsky has released second version of their tiny whoop – Apus MQ60 V2. What has been changed? This is going to be the most booring news post – FrSky hasn't upgraded a thing on this new Apus MQ60 V2! Look at the specifications – they are exactly the same as for APUS MQ60 V1 . Well, actually, they do have changed something – changed the 4-bladed props to 3-bladed and updated the VTX firmware to disabled some of the frequencies to comply the FCC regulations. Last year the FCC has imposed a $180,000 civil penalty on GetFTP (Lumenier Holdco LLC) for selling the non complient video transmitting devices. Some of them were transmitting on the frequencies that fell outside the permissible amateur bands. Most probably FrSky has discontinued the V1 and made a new V2 version just to comply theese regulations.
Also motors were changed to 19000KV ones. FrSky has changed the motor supplier (Thanks Joe, for the reminder).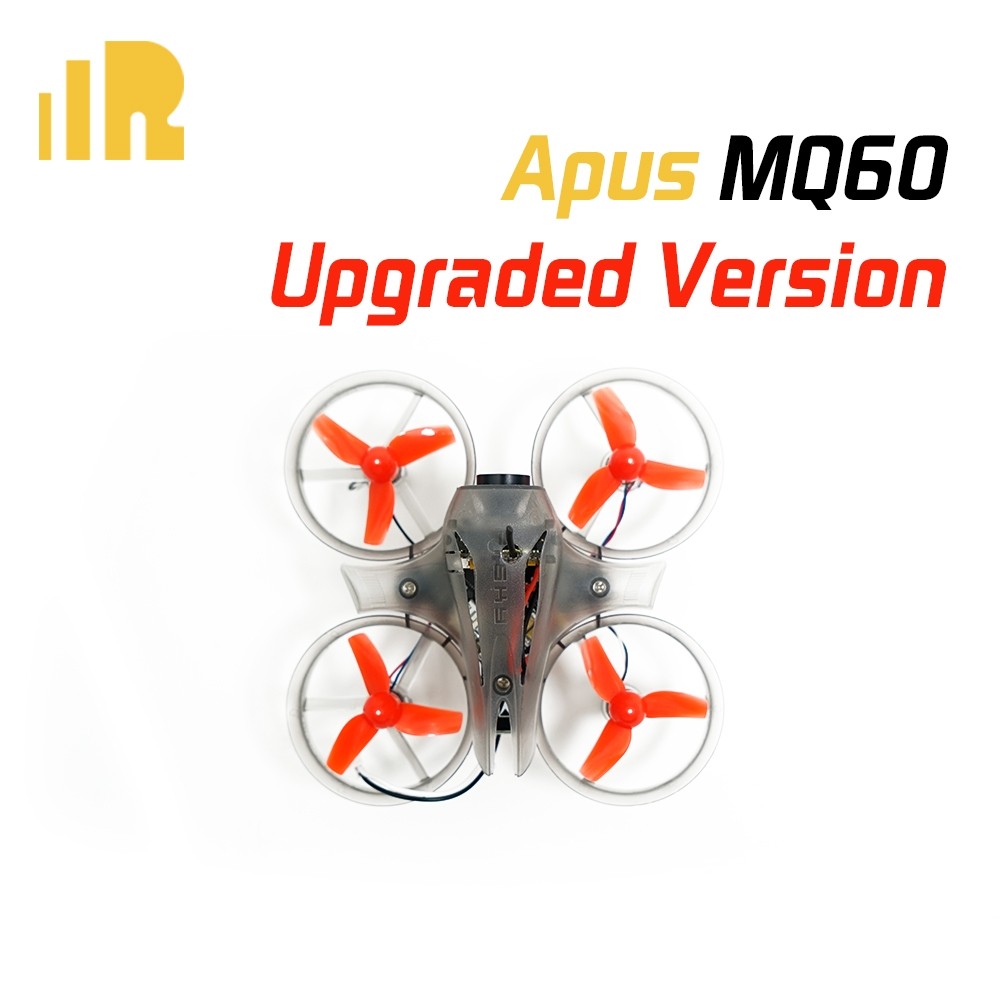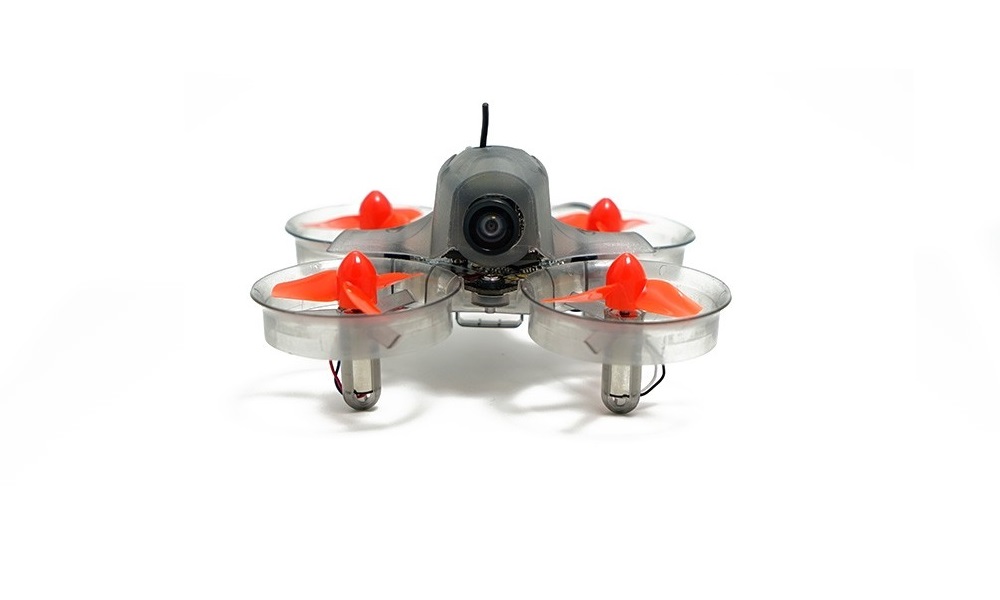 Here is the VTX frequencies list for APUS MQ60 V1: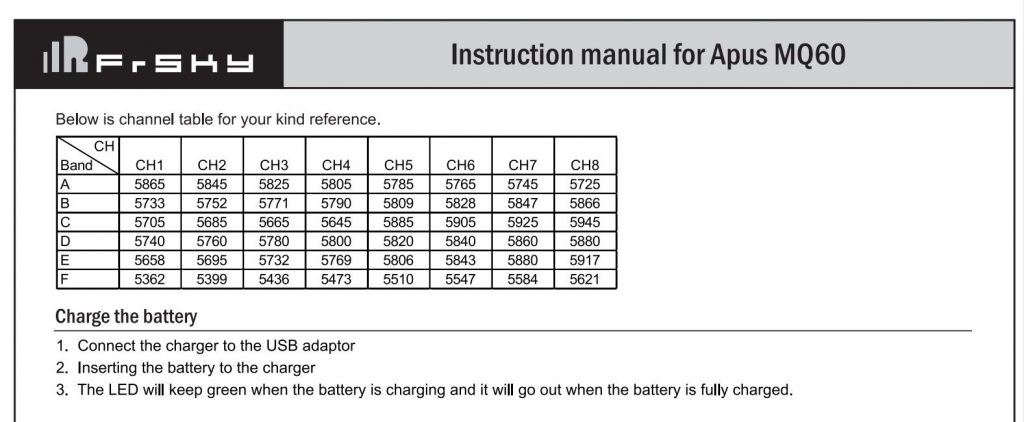 And this is the updated VTX frequencies list for APUS MQ60 V2: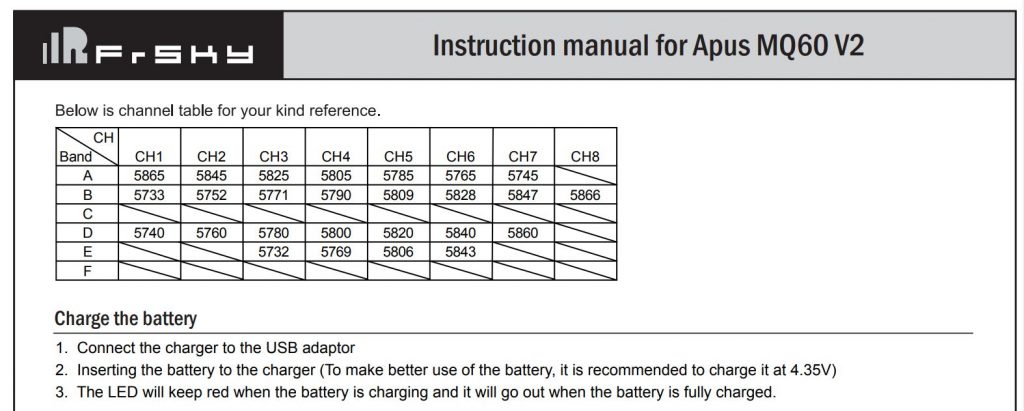 User Manual for V1: https://www.frsky-rc.com/wp-content/uploads/Downloads/Manual/Apus%20MQ60.pdf
User Manual for V2: https://www.frsky-rc.com/wp-content/uploads/Downloads/Manual/Apus%20MQ60%20V2.pdf
Available @ https://www.banggood.com/Frsky-Apus-MQ60-w-Frsky-XMF3E-Flight-Controller-5_8G-25mW-600TVL-Cam-Micro-Racing-Drone-BNF-p-1250703.html
Specifications for V2 (and V1):
Model name: Apus MQ 60 V2
Wheelbase: 66.5mm
Weight: 20g (Without battery)
Size: 84mmx 84mmx58.5mm
Flight controller integrated with XM receiver
Firmware version: betaflight_3.0.0_frsky(can be upgraded)
Motor: 615 coreless
Prop Size: 31mm 3 blades props
Camera: NTSC 672X492
Video Transmitter: 5.8G 26CH 25mW
Battery: 3.7V 200mAh 25C Li-Po battery
Features:
Lightweight
5 minutes of flying time
Support 2 binding modes (automatic and manual)
Solid frame and strong blade protection
Fly without having to adjust the parameters after binding
Supports parameter adjustment and the default value recovery
2018-07-02 – Updated changes list.
2018-09-18 – Motors have been changed!