Lantian LT105 brushed quadcopter build review
I have decided to make my own custom version of the Lantian LT105 micro brushed FPV quadcopter. So I have gathered the required parts and started the build.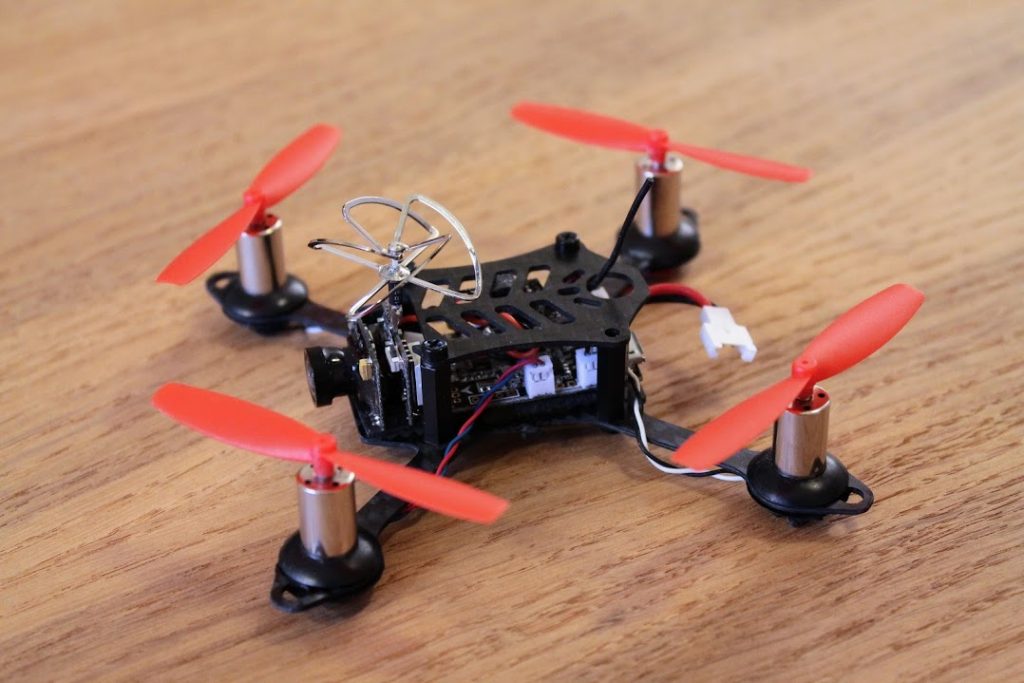 Parts list
Frame: Lantian LT105 frame kit – $6.39
Motors: Chaoli 8x20mm brushed motors – $12.56. Other options:  Racerstar 8.5x20mm 53500RPM Coreless Motor – $13.99
FC: SP Racing F3 brushed flight controller -$10.91
Receiver: iRangeX tiny flysky receiver – $4.13. Other options:  Flysky FS82 AFHDS 2A Receiver – $7.69, Frsky D8 micro receiver -$8.69
Battery: Eachine 1S 600mAh 50C – $4.99. Other options: XF Power 1S 600mAh 30C – $4.49
Propeller JJRC JJPRO-T1 propellers (these are copy of Walkera Ladybird props) – $0.92
_________________________
Total cost w/o camera/vtx: $39.90
Also I have used 1.25mm mini JST connector sets (also called PicoBlade or Losi MX connectors) for easy motor plugging and camera power cable, supplied with camera set.
FPV All-in-One camera TX01 NTSC – $20.99 or All-in-One camera TX01 PAL – $20.99 (choose whichever you like most)
Total cost: $60.89
You can get pre-build version of this brushed quadcopter for around $60, but you'll loose the joy of building and our part list is better – better motors, battery, etc.
Build
Lets take a look at the parts closely. Lantian LT105 frame kit includes: base plate. top plate, rubber grommets, nylon 2mm sized standoffs, nylon 2mm screws, rubber rings and stickers (who knows the right meaning for the M1, M2, M3, M4 ? put a comment below)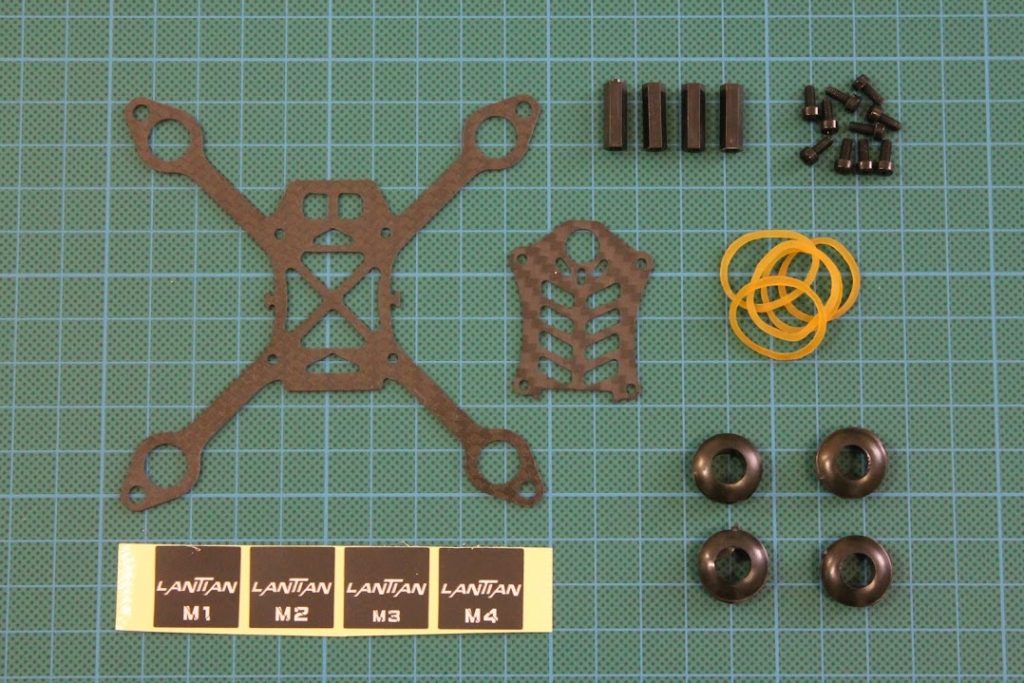 Main frame plate thickness is 1mm. Upper plate is also 1mm thick.
F3 flight Controller is equipped with STM32 F3 microcontroller and has powerful FETS for brushed motors. This board even has 3UART(!) ports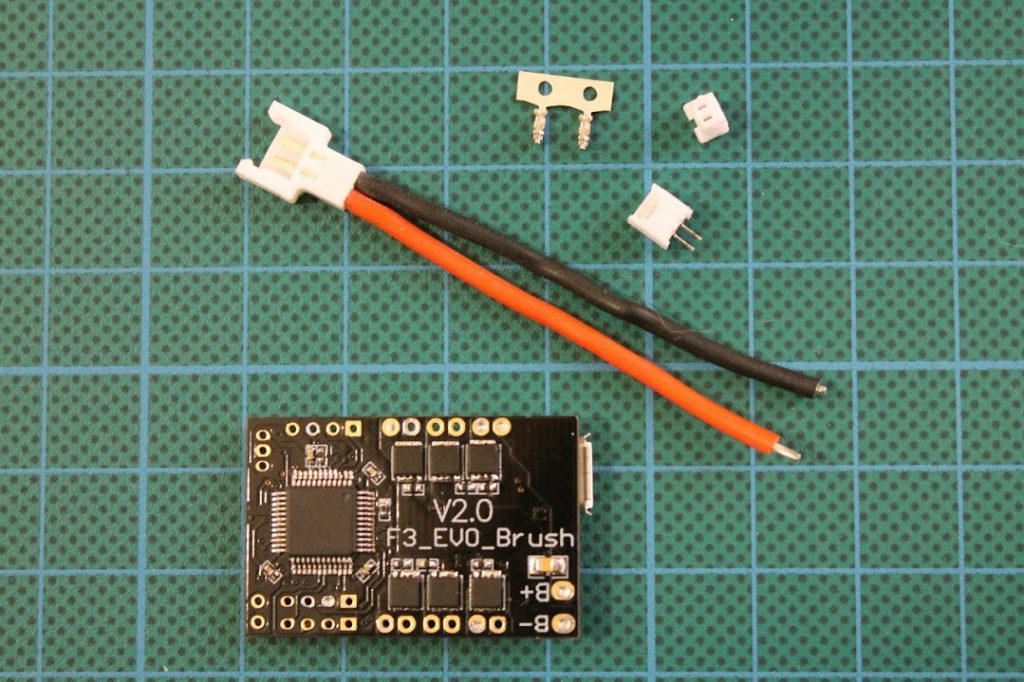 The power cable, included with flight controller is very thick and not flexible and also wights a lot. I suggest to order this 1to5 micro losi parallel charging cable. You will have 5 pigtails with soft silicone cables that are light and flexible.
2 Clockwise and 2 Counter Clockwise rotation 8.5mmx20mm motors. These motors actualy were bought on eBay for $5.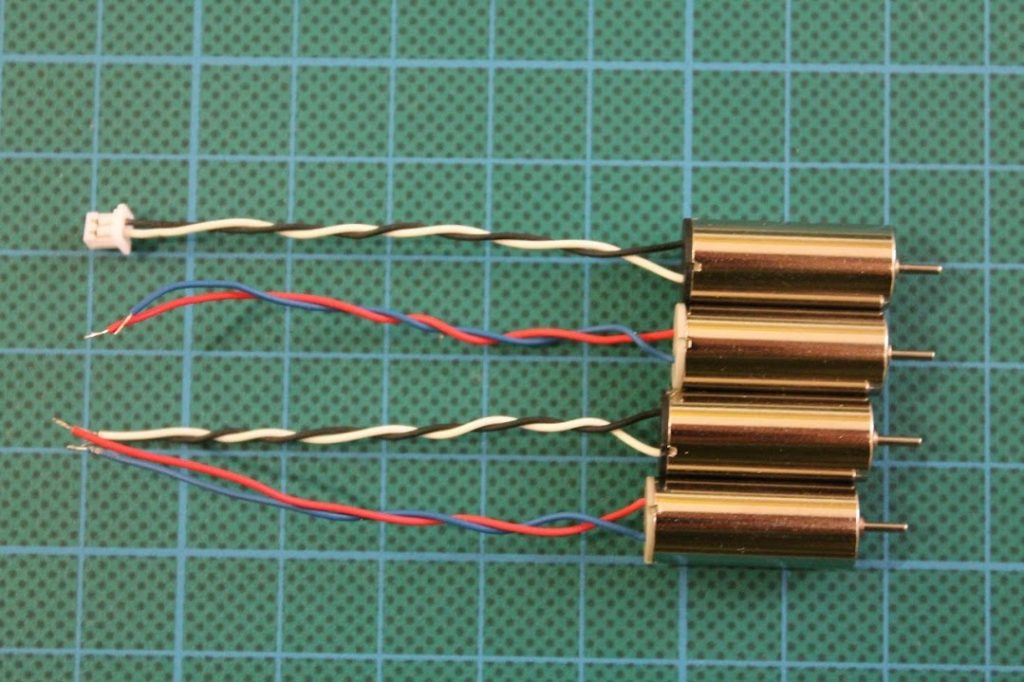 As these motors came with lose wires, I have decided to solder Micro JST 1.25 plugs for easy motor changing on the field. These brushed motors have relatively short lifespan, so you will definitely have one of them broken in the middle of the flight. If your motor is soldered to the FC, then it is really hard to fix it on field, but if it is only a matter of unpluging old one and plugging ne one, then your day will be saved.
How to solder motor wires to these micro connectors: I aplly very small amount of the solder with flux to the terminals, then solder stripped pre-tinned motor wires to the terminals. Use small pliers to fixate the wire by two brackets. Insert the soldered terminals into plastic connector and use some tool to push the terminals into the connector.
Next part is super small Flysky receiver. This particular receiver is not for sale anymore (for some unknown reasons), but the direct substitute is this iRangeX receiver.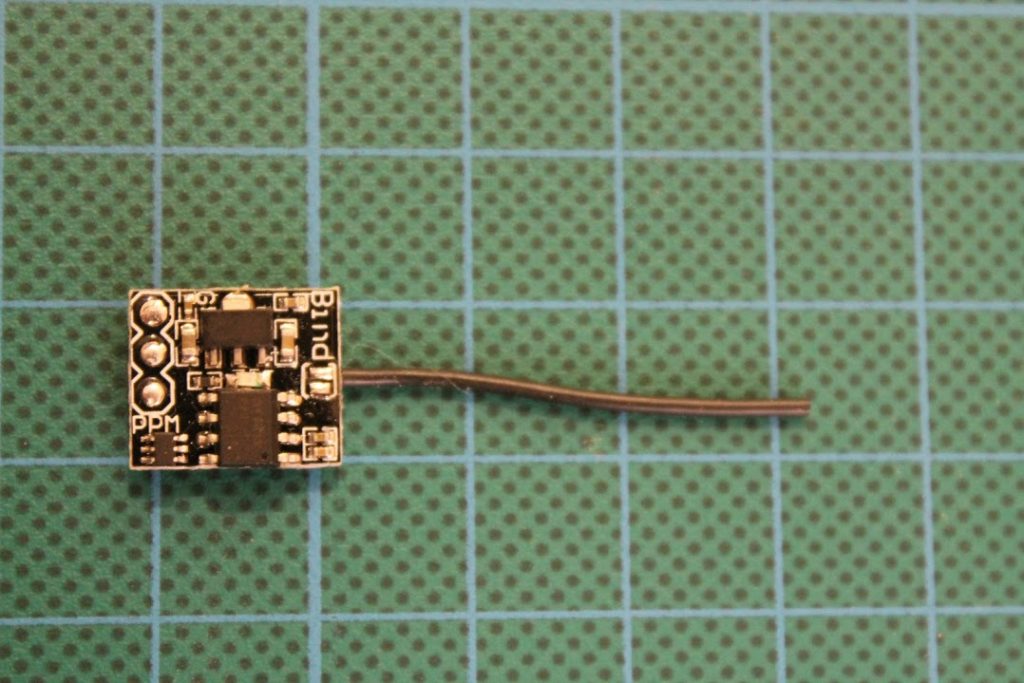 The assembled frame weights only 7.7 grams.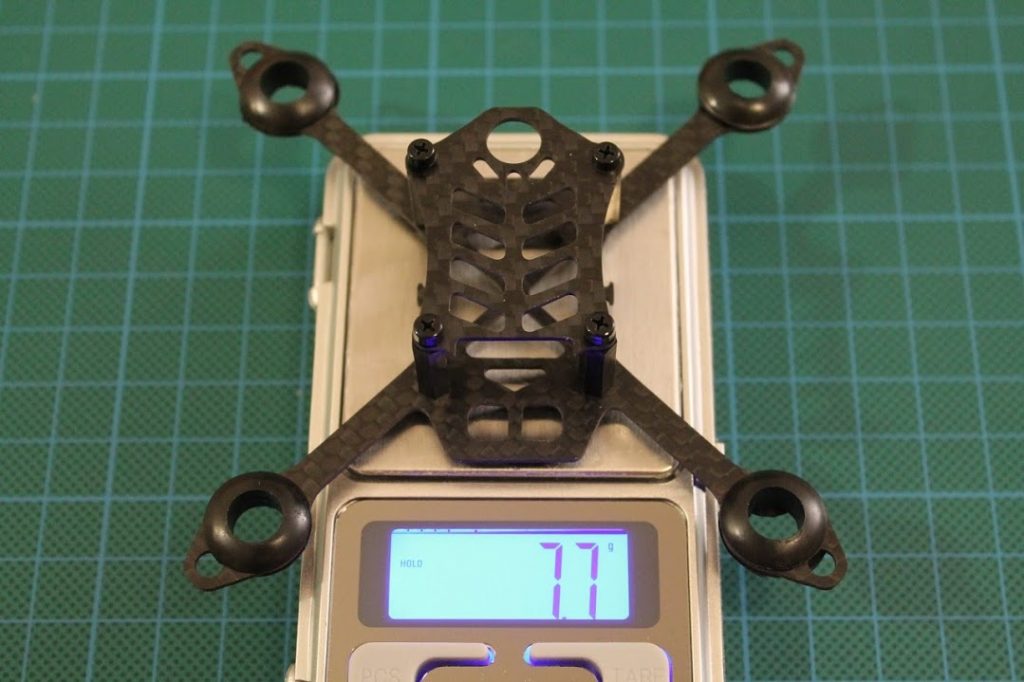 Solder mini-JST sockets to the board, battery cable with micro Losi connector. The right motors configuration shown below.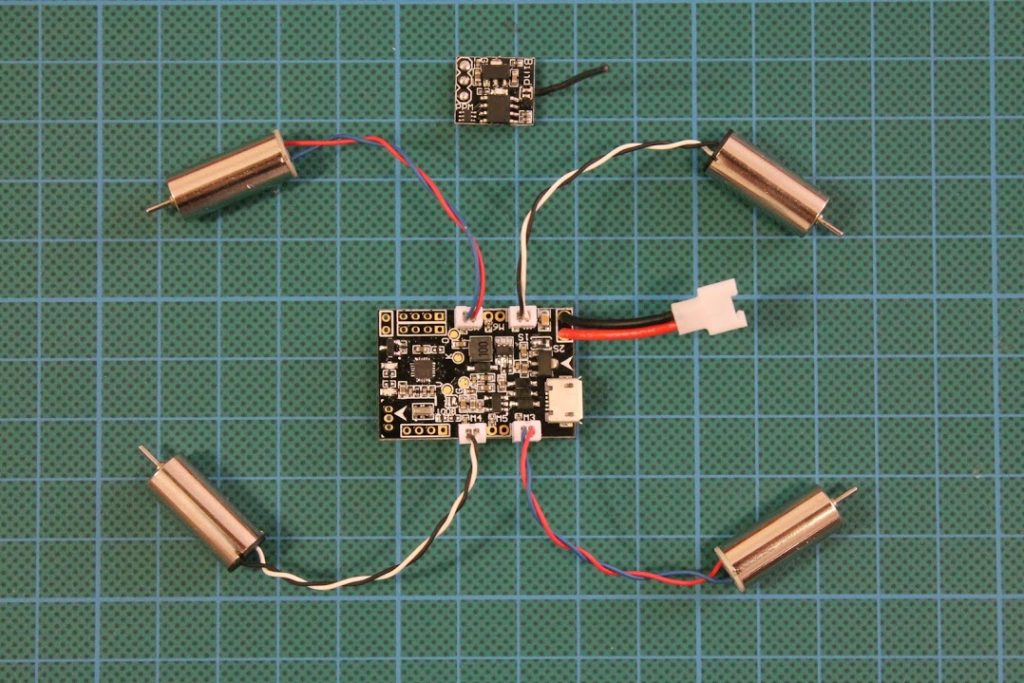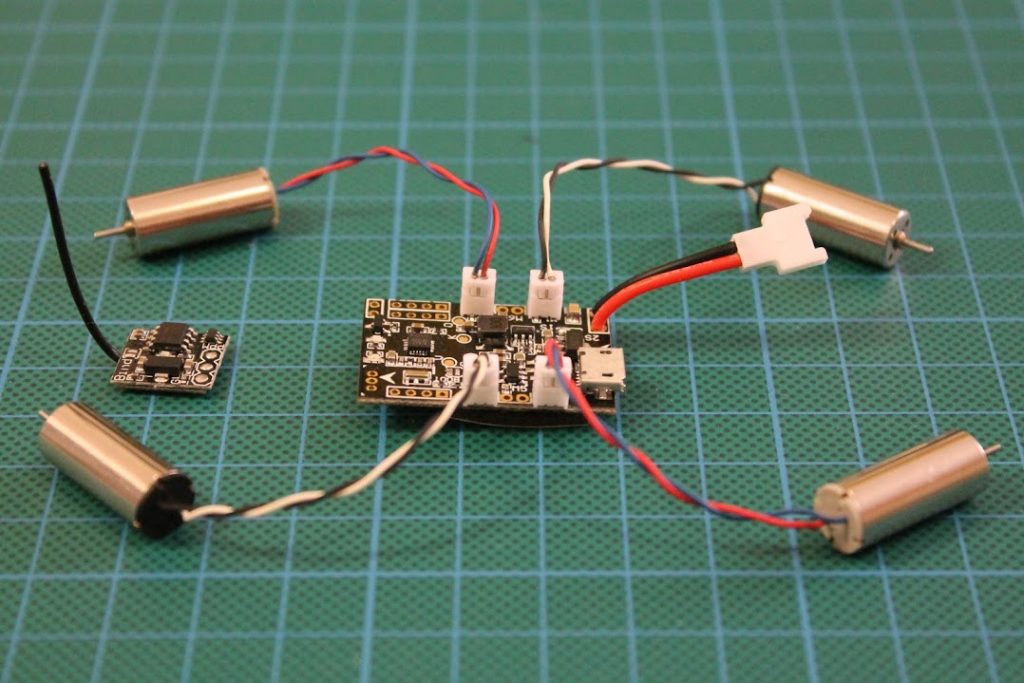 Attach the fight controller with double sidded tape to the frame.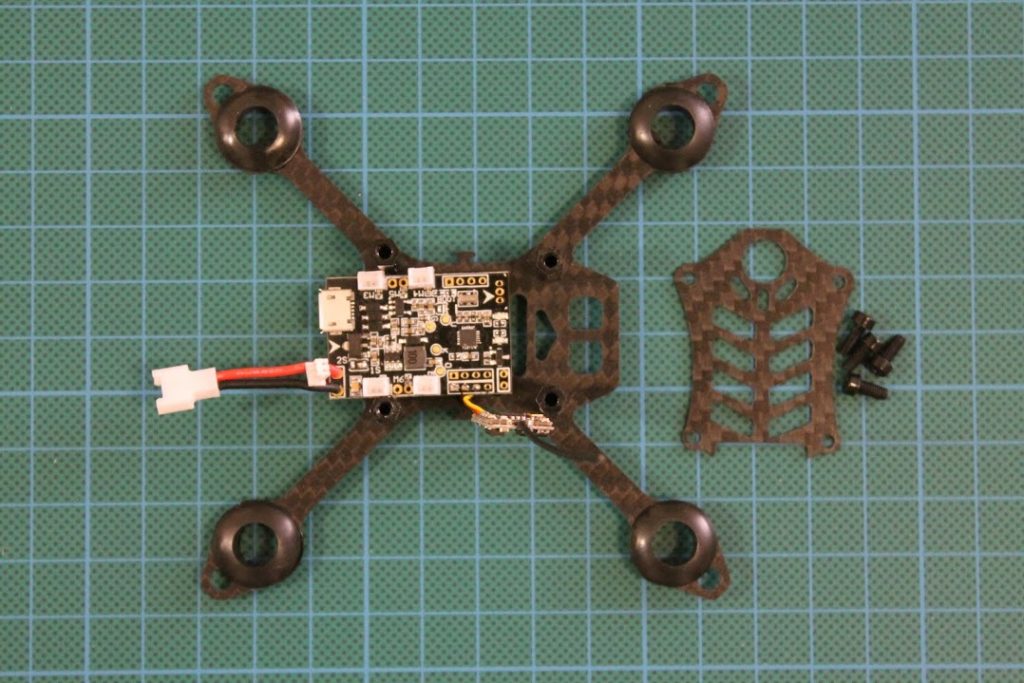 Oh by the way I have already soldered the FlySky receiver to the FC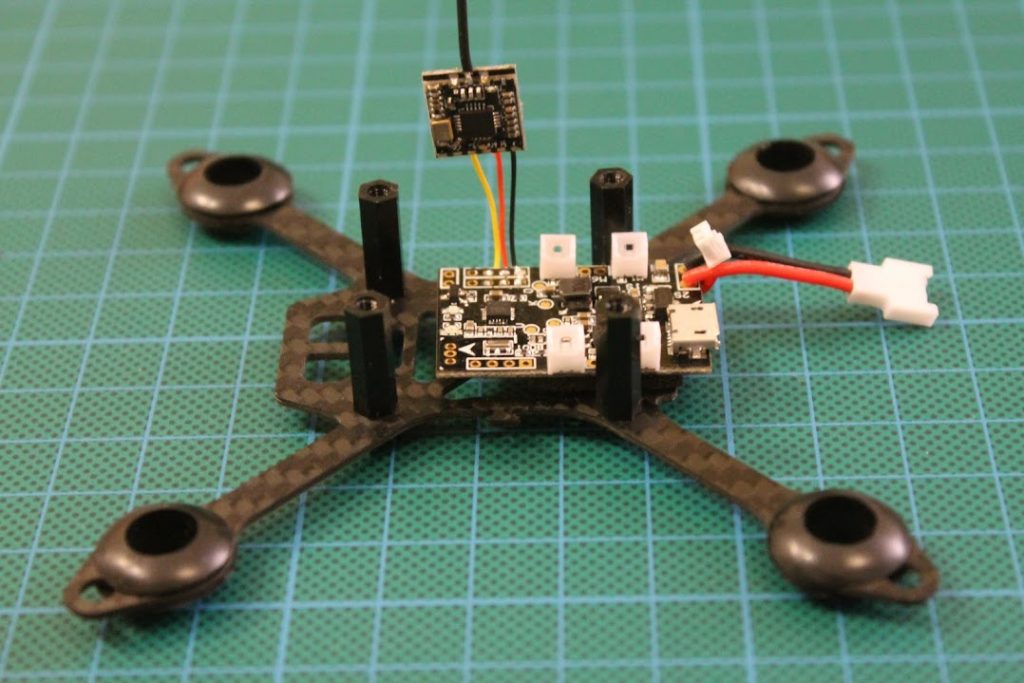 Closeup pictures: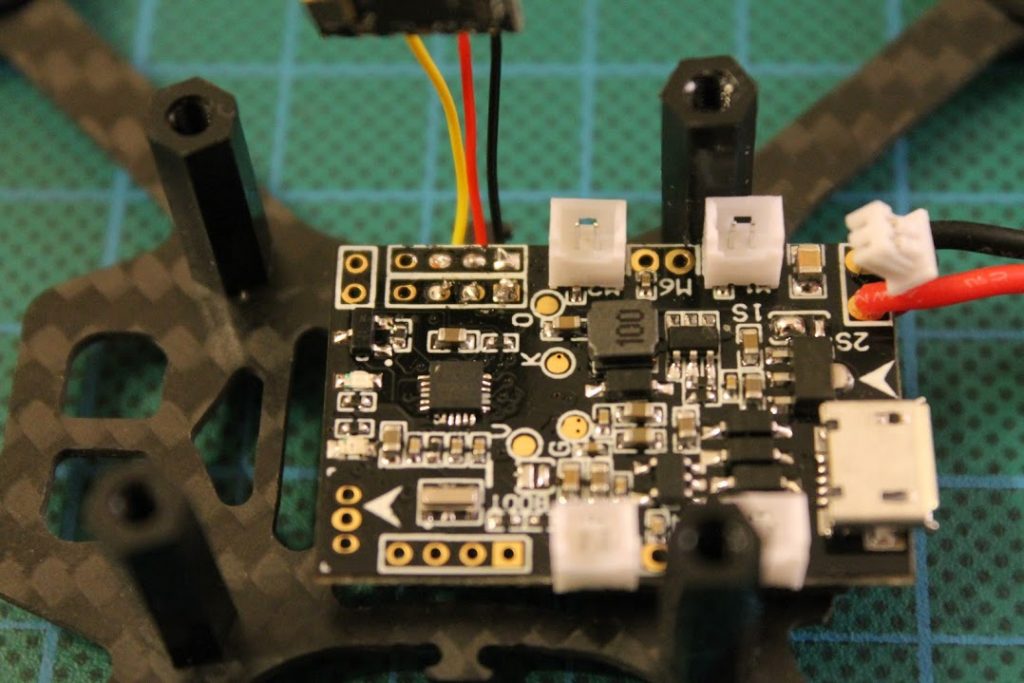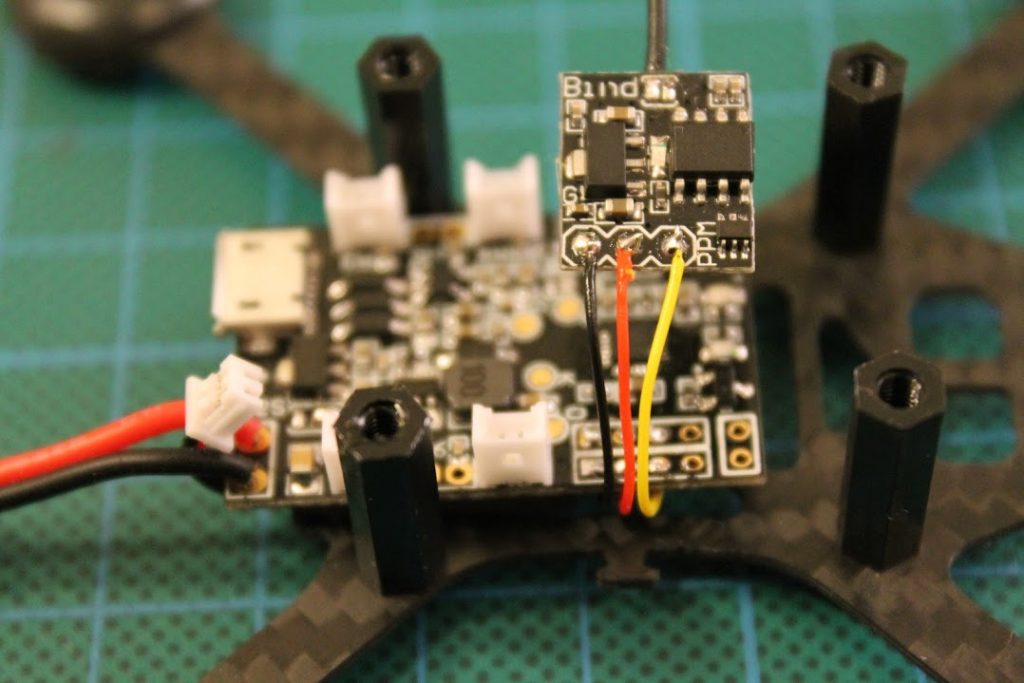 Now install the motors into rubber grommets.
The final result (without FPV equipment):
[To be continued]
Updated 2017-07-07